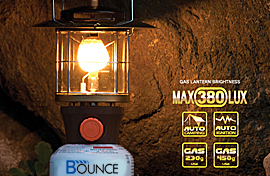 L2KR (BOUNCE) GOLDEN EYE 380 lantern image with features below.
· Much brighteness with less gas consumption.
· Piezo ignitior makes easy lighting.
· Precise flame adjustment from dark to bright light.
· SHOTT glass made in Germany adapted.
· Removable reflecter made from corrosion resistent stainless collects and focuses more light downside.
· Top cover is enamal coated for corrosion proof and primium look.
· Overaping double wire handle makes it portable keeping cool in use. /
· Max 380 Lux from 1m distance.
· Removable reflecter is folded for minimum volume in storage.
· Durable blister case for safe storage included.
· Upper lantern parts are removable to easy and safe mantle exchange.
* For more information, please open the page link: GOLDEN EYE 380 lantern